Black Notley Hospital
A Century of Service
A book on the history of this hospital is now available, covering the period from the opening in 1904, to the close in 1998. Two hundred pages of text and black & white photographs, softback.
The book can be obtained by mail order, price £5.75 in the UK. Price correct at July 2002.
For more information, including overseas orders, please
email >by clicking here
Information on the book follows ......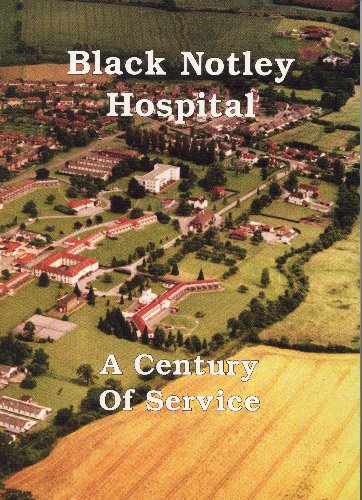 © Black Notley Parish Council 1998
All rights reserved. No part of this publication may be reproduced, stored in a retrieval system or transmitted in any form or by any means, electronic, mechanical, photocopying, recording or otherwise, without the prior permission, in writing, of the publisher.
ISBN 0 9533402 0 1
First published 1998
Published by: Black Notley Parish Council
134 Witham Road, Black Notley, Braintree, Essex, CM7 8LN
Printed by: PressXpress,
Fox Meadow, 23 Courtauld Road, Braintree, Essex, CM7 9BD
Cover photograph "Black Notley Hospital" 7th July 1988, © PhotoVisual
315 London Road, Westcliff-on-Sea, Essex SS0 7BX
FOREWORD by Peter Turner
Black Notley Hospital has been part of the local community for almost a century, providing health care to literally thousands of people in Essex and beyond. A centre of excellence and the focus for pioneering treatments and great public service. A place of employment, with staff recruited from many parts of the globe. As the following pages will tell, a place of great ingenuity, real dedication and a sense of one big family.
With closure on the horizon, I suggested to colleagues on Black Notley Parish Council that we must find a way of paying tribute to this great institution. We invited some staff, past and present to a tea party at the former Hospital Recreation Hall, now a thriving community centre. Bringing former colleagues together, plus a sprinkling of old photographs soon generated support for the idea of a book on the history of the hospital, plus a steady supply of written and photographic contributions.
The Parish Council readily supported this initiative and a small project team was "volunteered", which brought together a rich mixture of skills and experience. Denis Dunn, FRCS, Ann Wood, Clerk to the Parish Council, former hospital administrator Doug Wellington, Liz Hooper, Chair of the Black Notley Community Association, who completed much of her nursing career at the hospital, fellow parish councillors Maurice Boutell, Bill Harris, Gordon Redman and myself at the helm.
It has been a real pleasure to lead such a hard working team and to receive so much support and contributions from staff, patients and friends, both past and present.
This book is a tribute to Black Notley Hospital, now closed, but still remembered in the hearts and minds of so many people.
Cllr. Peter Turner Chair, Black Notley Parish Council,
June 1998
Contributors
Mr. Alvin
Jan Archer
Dr. J. R. Axon
Justin Bones
Mrs. J. Boutell
Maurice Boutell
Norman Butcher
Brian Chinnery
Colin Clarke
V. R. Davey
Mr. Denis Dunn FRCS
Renate Falk
George Frostick
Mrs. Phyllis Game
Pat Halden
Leif Haug
Mrs. Anne Harden
Bill Harris
Beti Hastings
Mary Hayden
Margaret Higginbottom
Joan Hodges
Mr. M. Honeyball
Liz Hooper
Evelyn Hornsby
Mr. A. C. Hume FRCS
Miss Mavis Ingham
Mrs. Jebbett
Mrs. E. Johnson
Allen S. Jones
Mavis Jones
Roland Jones FRCS
Ian Lawson
Janet Lindsell
Mrs. Gillian M. Marshall
Mr. Douglas Millar FRCS
Mrs. A. V. Mullane
Mrs. R. Mulryan
Dr. James Mulryan
Mrs. S. Partridge
Wendy Partridge
Ann Pease
Brian Pease
Sandra Peters
Dr. Ian Prentice
David Pritchard
Alan Purdy
Pat Purdy
Dorothy Redman
Gordon Redman
Norman Reid
Mrs. H. Revell
Denise Riglin
Sue Rowe
Mrs. B. Sanders
Mrs. S. Stewart
Leslie Strong
Ann Twohey
Peter Turner
Doug Wellington
Mr. A. Wheal
Ron Wildin
Derek Wiles
Paul and Helen Wilkin
Ann C. Wood
Mr. J. Wooding
Olive Wooding
Cohn Wright
Kate Wright
Acknowledgements
All the staff at the Essex Record Office
Jean Grice - Braintree District Museum
Robert Rose - Braintree District Museum
Staff at Braintree and Chelmsford Libraries
BBC Essex
Photovisual of Southend
Hospital Radio Braintree
Mid Essex Hospitals NHS Trust
Black Notley Community Association
Mike Letch of LetchWood Associates
Braintree District Council
Black Notley Parish Council
The Essex Chronicle
Black Notley Hospital Staff
East Anglian Daily Times
M. Nichols
Nursing Times
Essex County Newspapers
British Orthopaedic Association
Ray Studios Ltd.
And to the many people who have encouraged us to complete this publication
Main Time History
1904
Hospital opens as a smallpox isolation hospital, run by the Braintree Urban District and Braintree Rural District Joint Hospital Board.
1912
Essex County Council's scheme for the treatment of Tuberculosis is framed and the first sanatorium is established at Black Notley. The accommodation is for female patients only. Plans to build a large new County Sanatorium are put aside during World War I.
1917
Sanatorium enlarged to hold 24 patients.
1928
Foundation stones laid for new sanatorium on 3rd July and for King Edward VII Memorial Hall on 3rd August.
1930
The new sanatorium is opened on 26th April by the Minister of Health, the Rt. Hon. Arthur Greenwood
1937
Additional extensions to increase accommodation to 300 beds, are opened on 7th July by the Rt. Hon. Sir Kingsley Wood. A new Nurses' Home is part of the enlargement, with accommodation for Sisters and nurses, 57 in all.
1939 to 1946
A complete emergency hospital is erected by the Ministry of Works, on behalf of the Ministry of Health on an adjoinirig field. This includes 19 wards, operating theatre, X-Ray and similar departments.
1949
The general wards go out of use with the discharge of war-time patients. General Nursing Council agrees to the recognition of the hospital as a full training school.
1950
With improved nurse recruitment, new wards are gradually established and by 1950 there were wards for general surgery and medicine, orthopaedics, paediatrics and gynaecology. Some of the disused general wards re-opened for the treatment of Tuberculosis to cope with continued heavy demand.
1950's
First orthopaedic cases received from The London hospital, Whitechapel and the link with that most famous of orthopaedic hospitals is forged. Patients admitted for treatment of Tuberculosis from Malta GC. Staff recreation hall opened.
1957
Plastic surgery commenced at Black Notley.
1958
With the closing of Alexander Hospital, Luton for the treatment of physically handicapped children, the remaining children are transferred to Black Notley to set up the Physically Handicapped Children's Unit (Lee Lodge).
1959
With the rapid decline in incidence of respiratory Tuberculosis due to new drugs becoming available, the unit is closed and the remaining patients transferred to Broomfield Hospital.
1962
Sick wards at St. Albrights Hospital, Colchester are closed and 72 geriatric patients transferred to Black Notley and a Geriatric Unit is set up.
1964
The word Black is removed from the hospital title and it becomes Notley Hospital, in order to aid staff recruitment. The move proved unsuccessful and on 1 st November 1974, the hospital reverted to its former name of Black Notley Hospital.
1968
Regional Orthopaedic Centre set up at Black Notley. Operating theatres rebuilt and opened by Sir Harry Platt, Bart.,MD,MS,FRCS
1975
The Accident and Emergency Department closes and the hospital ceases to have an emphasis on local care.
1985
Medical and surgical beds are transferred to the new Colchester District General Rospital leaving just 235 in orthopaedics, geriatrics, rheumatology and rehabilitation. Lee Lodge provides an assessment centre for handicapped children.
1986
The management of Black Notley Hospital transferred from North Essex to Mid Essex Health Authority.
1995
In December, the new building is commenced at Broomfield Hospital to replace the Mid Essex orthopaedic wards and the rheumatology ward based at Black Notley Hospital.
February 1998
The last patients are transferred to Broomfield Hospital
13th March 1998
The site is sold to the Cofton Group for development.
Bibliography
Essex County M. 0. H. Reports
Prosperity & Poverty, Rural Essex 1700-1815 by AFJ Brown
Kellys Directory 1914-1937
Braintree Local Board of Health Minutes 1868-1894
Braintree Urban District Council Minutes 1894-1900
Thirty Years of Public Health in Essex (1919-1949) by Wm Bullough
Programme of the Opening of the County Sanatorium - 1930
Programme of the Opening of the Extensions - 1937
Echoes of the Great War - The Diary of the Revd. Andrew Clark 1914-1919 Edited by James Munson